VetCARE Kaikoura has grown steadily over the past 10 years, from a one vet practice to the two vets currently here. Dan and Rebecca Fleming have taken pride in renovating the clinic and investing in new equipment for both the clinic and on-farm use. It is important to us that to provide a friendly service and high professional standards. We consider our main strengths to be our local knowledge and the fact that we care. We are a small, friendly and professional team that you can rely on.
Dan and Rebecca bought the practice in 2008, having previously worked in the Waikato. Rebecca grew up in Blenheim and was keen to return to the top of the South Island, while the hunting and fishing opportunities appealed to Dan. They now have three children, and have made Kaikoura their home.
The VetCARE Kaikoura team consists of four vets, one vet nurse and a clinic receptionist. We look forward to meeting you!
The VetCARE Team
Daniel Fleming – BVSc dist & director
Dan undertakes the majority of the large animal work – dairy, sheep and beef. He particularly enjoys pregnancy testing and getting out to some of the more remote areas. Dan is a certified assessor for Body Condition Score, a member of the Johne's Consultant Network (JCN) for deer and an InCalf trainer. When Dan is not needed at work he heads out hunting, diving and fishing or for a game of squash.
Rebecca Fleming – BVSc dist & director
Rebecca enjoys all aspects of mixed practice, such as companion animal medicine, equine work and a bit of everything else. Outside of work Rebecca enjoys walking their two dogs, playing with the kids and has recently started to be more involved in horse riding and competing.
Cherie Boyd – Key Accounts Manager
Cherie has lived in Kaikoura all her life having been brought up on a dairy farm.  Cherie loves working with both people and animals in reception and on farm with large animal clients in her Key Accounts Role. Cherie also undertakes office management and is often roped into assisting the vets. In her spare time Cherie likes being outdoors with her dog Henry.
Lianna Ingram –  Vet Nurse
Born and raised in Kaikoura Lianna grew up around animals and livestock on her grandparents farm which had influenced her to do vet nursing. She particularly enjoys being part of hospitalized patient recovery and surgery. Out of work Lianna likes to travel, and has recently been to 16 countries.  On her days off Lianna spends time with her two dogs at the beach.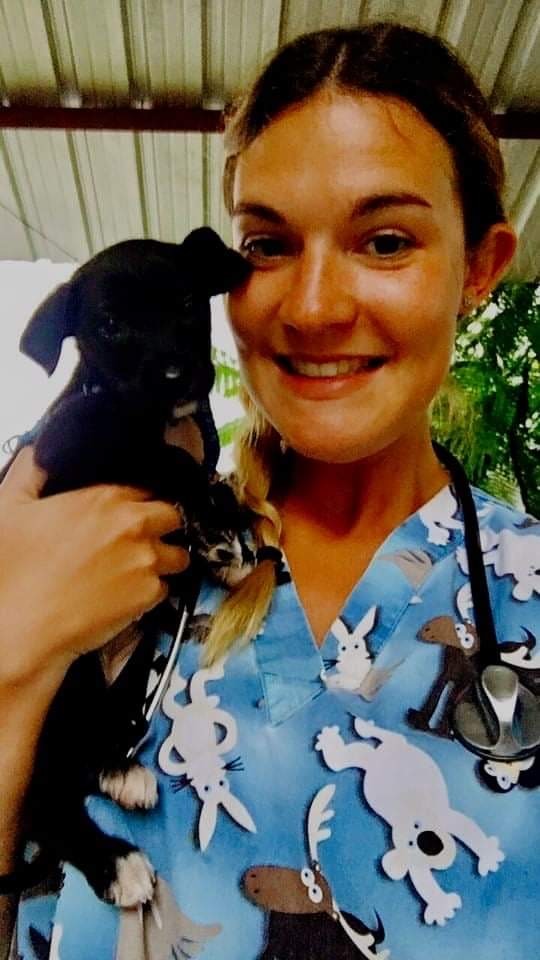 Kate Bird – Veterinarian BVSc
Kate joined our team in 2020 with her fiancé Rick. She studied in Liverpool in the UK and has since worked as a mixed animal vet – with a keen interest in small animal surgery. During her training, she travelled to places such as South Africa, Madagascar, Borneo, and the Galapagos islands where she got involved in all aspects of charity veterinary work. Outside of work now she enjoys exploring new places and making the most of what New Zealand has to offer such as hiking and skiing. She also enjoys photography and catching up with family and friends back home in the UK and cannot wait until they can come and visit. In the future Katie and Rick hope to have a Rottweiler called Moose and Boxer called Mowgli.
Rick Hesketh – Veterinarian BVSc
Rick joined our team in 2020 with his fiancé Kate. He qualified from the University of Bristol in the UK in 2013. He has worked as a companion animal vet in the UK as well as working with wildlife in South Africa and in charity clinics around the world before arriving in Kaikoura. Outside of work, you'll find him touring around the country in Henrietta the Hiace or charging around on his mountain bike.